Our story
The story of OFF PISTE BAR starts with four friends from Göteborg, Sweden. As passionate skiers – and aprés skiers – they asked themselves what it would be like to open a bar that lives and breathes skiing. A bar For Skiers – By Skiers where shredders of all shapes and sizes can come and have a great time. It was the Summer of 2016 and their project OFF PISTE BAR was initiated.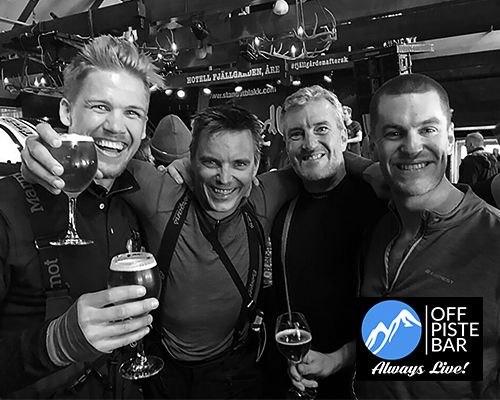 The Premiere: Winter 2017/18
The year OFF PISTE BAR opens its first own location on Kirchengasse 1, Zell am See. The founders love for Austria and their appreciation of the Austrian "Gemütlichkeit", translating to open friendliness, cut the deal. The opening night of the new bar is one for the history books. The bar closes at 7 AM in the morning and the team know that they are on to something. The concept works! Aprés skiers and night clubbers flow into the bar and the foundation is laid.
Next step: Winter 18/19
It's the summer of 2018 and OFF PISTE BAR expands to neighboring ski resort Kaprun with the mighty glacier Kitzsteinhorn just around the corner. The existing bar is rebuilt and refurbished to live up to the strong concept of the OFF PISTE BAR brand. The bar opens on the 26 of October and the team gets ready for another crazy fun winter together with the skiers and snowboarders from all over the world.